A New Resident Engages with an Enriched Community at Paul's Run
April 25, 2023
Paul's Run Retirement Living community in Northeast Philadelphia, PA, affords residents a safe, secure, and compassionate environment in which to live. It also offers numerous social and community building programs that enrich the lives of residents, providing them with a lifestyle that engages every part of who they are. In addition, many residents give back to the community by sharing their talents to help others live better lives.
Director of Community Life, Molly Bybee, says, "At Paul's Run, the environment is welcoming, and the social experiences expand residents' sense of belonging, providing multiple opportunities for them to live fulfilling lives."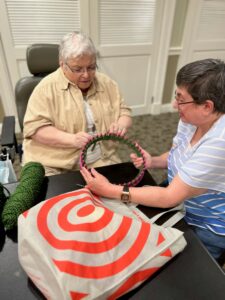 Judy, a 65-year-old retired Chemist who worked for the FDA for 23 years, has lived at Paul's Run for about a year. She relocated to the community from a four-bedroom home in Northeast Philadelphia after her husband passed away. Judy claims, "My dog, 'Snowball', and I were rattling around a house that required a lot of upkeep, and I realized it was time to downsize."
During the year that Judy has lived at Paul's Run, she began teaching new techniques at the Knitting and Crocheting club, and participated in Bell Choir. She joined the Board of Friends of Paul's Run, and donated knitting items to local churches and hospitals through The Community Service Club.
Established in the early days of Paul's Run, the Friends of Paul's Run plays an essential role in the community. Its signature project is the General Store. Quite a few residents volunteer their time to help in the store, whether stocking shelves, greeting customers, or running the cash register. According to Judy, "Some of the Knitting Club members' handiwork is so advanced that their knitted sweaters, soap holders, and Afghans are sold in the General Store."
For others in the Knitting and Crocheting club, Judy has also been instrumental in teaching knitting and crocheting techniques, as she has introduced them to accessories that make the craft easier. "Having dealt with low vision since birth, I use knitting needles with lighted tips. I have even taught people who were completely blind to knit and crochet using these," she adds. "For those with arthritis or other issues, I recommend using a loom rather than needles."

Judy happily shares her supplies with other knitting enthusiasts. "We have a closet full of supplies, and I am happy to make yarn deliveries to other residents or whatever craft supplies they need to finish their projects," she explains.
Not only do other Paul's Run Knitting and Crocheting club members benefit from Judy sharing her knowledge and supplies, but some, like Judy, volunteer in the Community Service Club at Paul's Run, which donates knitted caps, scarves, and blankets to churches and hospitals to distribute to the Homeless, the Philadelphia Merchant Seafarers, and to newborn babies.